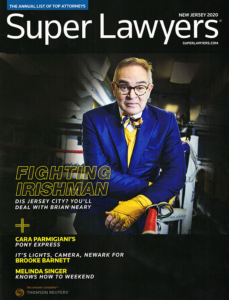 2020 started with such pace and promise! Two jury trials in the first two months. The annual winter trip to South Bend to teach at Notre Dame Law School. A nomination to the State Bar's Board of Trustees. The third straight year as a Super Lawyer Top Ten honoree (and the promise of the publication's cover story). 
Then came March. As we prepared for the challenge of more jury trials, another (and more grave) challenge loomed. On St. Patrick's Day, the Super Lawyer cover story was released, entitled "Fighting Irishman." That same day, the world stopped . . . with a much greater fight on our hands!
Courthouses shut down. Our offices were off-limits. We started practicing law from quickly assembled home offices. "Zoom" became the catchword for all things legal. The routine of the day – from office to jails to courtrooms to meetings – was shattered. But people still needed our help – to get out of jail, to defend against criminal charges, to feel safe in this new uncertainty. 
Offices Opening
Slowly, but surely, we responded. We spoke with clients. They were represented in Court (even if only by Zoom). Our offices started to open – encased in plexiglass. Masks (matching Brian's bow-ties) and social distancing brought the staff back together. As the weather became warmer, clients came and were seen outside on the plaza (the legal equivalent of outdoor dining).
We became better and better at Zoom Court appearances (complete with a camera back-drop of the Bergen County Courthouse). We even made some courthouse appearances (complete with all kinds of personal protective equipment, including a portable and personal air purifier). Motions were filed. Cases were argued. Clients still had their legal problems solved. 
Two Problems
Additionally, the system now faced two monumental problems – the resumption of jury trials and a response to social justice issues (awakened by George Floyd's murder). Brian helped to lead both. He participated in statewide committees, particularly the State Bar Association's select group on jury trials – always voicing constitutional and practical insights and social justice – a subject well known to Brian, as a member of the State Criminal Sentencing and Disposition Commission. He was also appointed as a member of the State Bar's Commission on Racial Equity in the Law (COREL). Still . . . there is much work to be done. 
Back at the law office, the challenges of 2020 law practice produced a dramatic and inspiring development of two young woman lawyers – Blaine Benson and Caitlin Kenny. Their lawyering and advocacy skills have been forged in this crucible – and they will be so ready for court appearances as we go back to Court in-person. And that we will – courthouses will reopen. Jury trials will start again. (Although, not until it's warm). We will keep fighting for our clients, arguing for fair treatment, and counseling people through the crises of their lives.
Contact Us
We are ready with vaccines, masks, and courage to continue to fight for people who need good lawyers.
We are ready for 2021! Contact us at (201) 801-4455.